Do you like trekking? If you do, try to visit
Tana Toraja
, a tourism destination with more attractive place for you who love trekking. If you just leisure this is for you too. You can found many interesting arts and local
culture
that Toraja have.
Toraja is
located
at height of 300-2884m above sea level, is a mountainous that consist of hills that are still original, it is the trees that form a dense forest, gardens,
coffee
, clove and pine, and also some of the hills rock/reef, with a terraces of rice paddies, a beautiful panorama. Besides, can be found also water falls, springs with the natural environment and the original source of hot water.
Toraja Panoramic Trek
Tana Toraja : Panorama-trek-very green views
Toraja is a destination with the charm of the original natural, quiet and calm. Far from the hustle and bustle industrial city. The natural scenery is beautiful with the cool air, aligning with the high mountain valleys variations that, in villages with houses on each of the customary back-ridge, is a blend of beauty that is not saturated.
Many tourists who come that resemble natural Tana Toraja with the natural Summer in Switzerland. High mountains in the West, there are mount Manglo (1775m), mount Sado'ro' (1894m), mount Massila (1833m), mount Ullin (834m), mount Mariri (1601m), mount Paling (2259m). In the North there are mountains Karua (1458m), mount Sesean (1584m), mount Batuma'rupa (959m) and the East are mountains Malanong (884m), mount Pedamaran (1494m), mount Gasing (1760m), mount Kandora and mount Sinaji (1669m).
Sa'dan river valleys sloping from North to South. Two city in the valley that is
Rantepao
(700m) and Makale (775m). While you do tracking, you will see object including relics of ancient graves typical natural and
Stone tombs and graves
in the tree that is just in some certain locations such us those in Lo'ko'mata.
If you lucky may be you will find the cultural
ceremony
that took place in the Torajans villages you pass.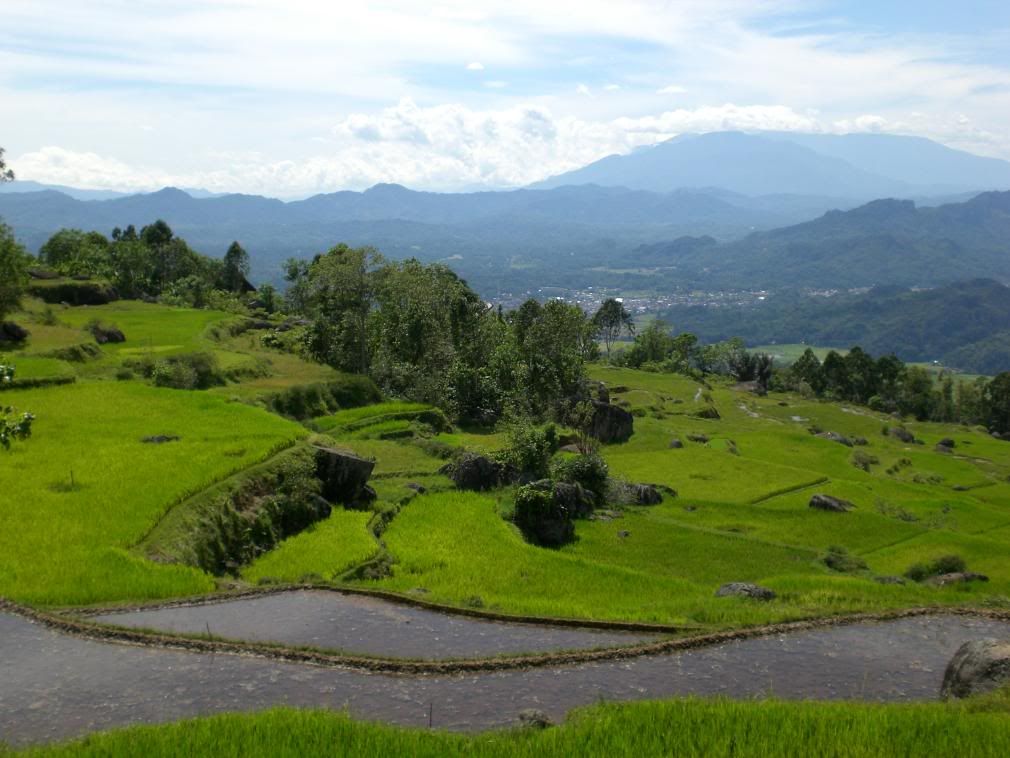 Tana Toraja - Rice Farm
Usually ceremony of Toraja culture done in a certain period of time only, such as when the local harvest is completed paddies, at the completion ceremony of the Tongkonan (Traditional house of Toraja), or when there is a traditional ceremony in death.
~o~